< | About the show > Showground Location >>
A Message from Valerie Bosley, the Show Secretary
I have been putting off writing this letter, partly because we all felt that by some miracle, somebody would offer us the use of a venue and mainly because I just did not want to cancel this year's Littlewick Show.
Up until 2019, we have found no difficulty in obtaining a site for our event, but this year it is different. In such a rural area, it is hard to tell people that there is very little pasture land here, as most is now arable land or unfenced commons, and just not suitable for organised events that include parking of vehicles. Our efforts to find a site for our Show, have included, Berkshire College of Agriculture, The Wildlife Trust, Holyport College, Claire's Court Schools, Rinder farms, Applehouse Farm, Shanly Homes, all previous sites used, Westacott Farms, Summerleaze Company, Taplow Court and an appeal on Radio Berkshire. Most have replied with sympathy, but of course otherwise unable to help. One large organisation did not reply to our letters.
Having been in touch with a number of other organisations, we know that we are by no means the only ones to cancel, as Newbury, Chertsey, Swallowfield, Hyde Heath, Naphill, Downley, Prestwood and Hazelmere will not be on this year. The only problem is that they all have venues for the future and we haven't. We have always had brilliant reports on the way that we use the fields and the manner in which we leave the sites, but we need them for five days, for setting up marquees waste bins and loos and of course for clearing.
We have alterations to our team. Following the resignation of our last President, June Distin, who wanted to use the time to 'go travelling', we welcomed Theresa May, who has been a Vice President for many years, as our President. Ian Donaldson, who has run the Horticultural section for several years, announced that he intends to move right away. He has been replaced by Andrew Smart, who is extremely enthusiastic and has already made suggested changes to the schedule, A group of energetic 'keep-fit' ladies have volunteered to assist as well. I have had some personal problems, having been taken to Wexham Park Hospital for a five day stay with shingles, in mid May, the nursing staff must have been fed up with me telling them that I need to be recovered in time for Littlewick Show. Things are improving, although I am told that full recovery can be slow and painful. Sadly there doesn't seem to be a need to rush any more.
We must all think of next year. We still need a field and do not appear to be nearer to getting one. Please help us. We have kept going for over 85 years, even through war-time. We love our Show too much to allow it to die.
Can you help? Have you any suggestions of possible venues? Please contact me the Show Secretary:
Valerie Bosley
18, Pinkneys Road
Maidenhead
SL6 5DH
Tel: 01628 630622
email: valerie@vbosley.plus.com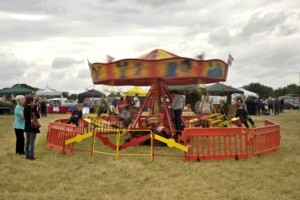 Since 1935 the Littlewick Green Show Society has presented and promoted the annual Littlewick Show. Its purpose is to bring together, for one day, horticultural, farming, rural and other craft skills, amusements, sideshows, sales and promotional stalls. It gives opportunities to local charities to have fundraising stalls and/or information outlets. It provides general show events, exhibitions, competitions and entertainment open to the public for its participation or simple spectating or viewing.
The Society is non-profit making and any surplus income, after deduction of promotional and other expenses as provided for by its Aims and Rules, is distributed by way of donation and/or grant aid to charitable organisations in Maidenhead and District as may be decided upon by the Committee of Management at its discretion.
Admission to the show is:
£7 for Adults
£3 for Children under 16
£4 for OAPs
£18 for a Family Ticket for 2 Adults and up to 3 Children or £14 when purchased in advance from:-
PIKE SMITH & KEMP, Queen Street, Maidenhead
TIME MACHINE 32, Westborough Road, Maidenhead
HUNT'S HARDWARE & GARDEN SUPPLIES, Station Road, Marlow

Our collection of personal data is detailed in our Privacy Policy. Click here to see our Privacy Policy.
For further information contact:
Miss V. Bosley at 18, Pinkneys Road, Maidenhead SL6 5DH
Tel: 01628 630622 - E-mail: valerie@vbosley.plus.com